The Inaugural Trip
The inaugural cycle ride took place on Saturday 20th April
A beautiful Spring morning greeted the eight intrepid cyclists as they gathered at Viv"s house for a 9am departure.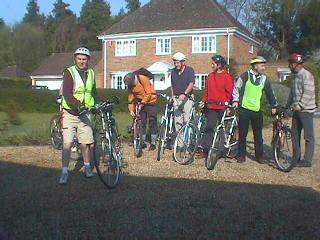 A gentle ride along the Nailbourne, through a couple of fords and up to the A257. At the top of che climb, some adjustment to Raj's saddle was deemed in order, so for the first time that day, Bicycle Repairman leapt into action.
Crossing the A257 and into the woods beyond, we were treated a glorious display of snowdrops, with the sunlight flashing through the branches. To save a bit of time, a short cut across a field (via a track, of course), led us to a locked gate. Modern bikes are very light, so lifting them over proved no problem.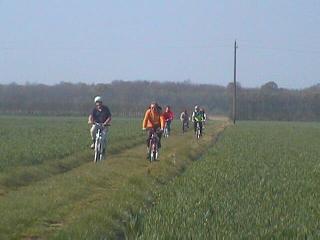 The first pub stop was The Half Moon and Seven Stars in Preston. It was 10.30am, this was Britain, the pub was closed.
The route we were following was designated "National Cycle Route 1" and was marked by distinctive signs. These signs indicate the miles each way to major points along the route. Today's route was 24 miles. By the time we reached Preston, we had done 8 miles, yet the NCR1 sign said "Dover 24 Miles". This was the first realisation that Captain Vivian Bligh's distance reckoning was not what we had hoped.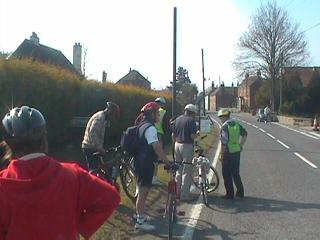 Somewhere around Wickhambreaux, Tony's front tyre went flat. Once again, Bicycle Repairman miraculously appeared. It didn't seem to be punctured, so he pumped it up and we continued.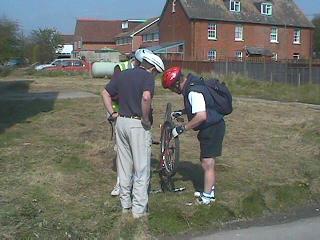 The next pub stop was The Way Out Inn in Westmarsh. It was 11.05am, this was Britain, the pub was closed.
Our route took as past Richborough Castle, over the railway tracks, between the pillars that used to support the old light railway and into Sandwich for a well-earned rest stop at The Bell Hotel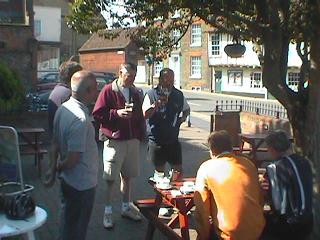 Sue had to collect a Spanish teacher from Gatwick Airport, so she and Graham left us and cycled home again. Thier round-trip was 24 miles (despite Graham's trip computer saying it was 48 miles)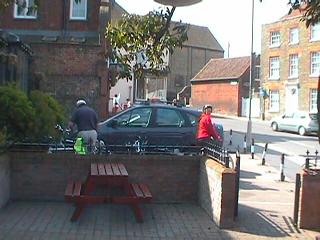 Vivian is a hard task-master, so one drink and one game of Cribbage later (in which Peter and Tony pegged around the corner in the first hand, thanks mainly to being able to lay a fourth Ace for 31), we left heading South
Although the wind was gentle, it was from the South and the sea made it a tad chilly as we rode past the Royal St George's Golf Club and down into Deal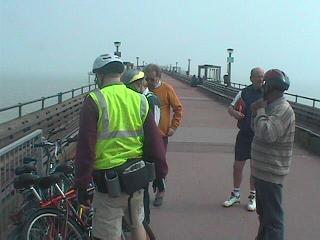 The end of Deal Pier was shrouded in mist, but its famous All-day Breakfasts beckoned. "Its past noon, we're not doing breakfasts now". Oh yes, we are still in Britain. Still, thier lunch looked suspicously like thier breakfast, so all was not lost. One more game of Cribbage, then on again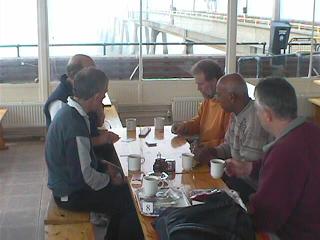 Along the promenade at Deal, and past the fishing boats with their winching gear, past Deal Castle, past Walmer Castle (still flying the Queen Mum's colours).
Having been pretty much on the level for over 20 miles, things were about to change radically. With aching thigh muscles and a numb bum, your faithful correspondant chose to walk up the next couple of hills. The views from the top, however, were well worth the effort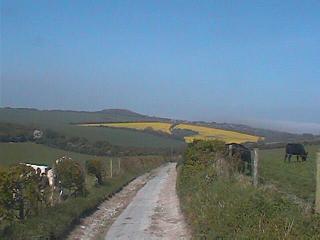 Riding through St Margaret's, Tony asked "Anyone fancy a cup of tea?" With a unanimous "Yes" in response, he proceeded to wander into a private house and bang on the fence demanding tea. It turns out that Tony's sister, Frances, lives there and was kind enough to provide the four of us with tea.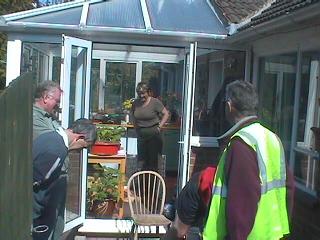 A long freewheel down into Dover, took us just below Dover Castle, where the Bleriot Memorial marks Louis Bleriot's historic first crossing of the channel by aircraft. The memorial shows just how small his plane was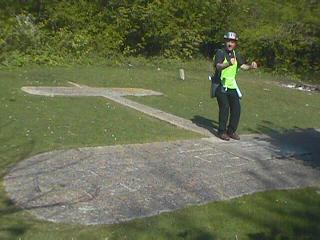 Another walk up and then a freewheel down into Dover Town itself, past Tony's old house and across to the station. Perfect timing, the train for Bekesbourne was leaving just 9 minutes later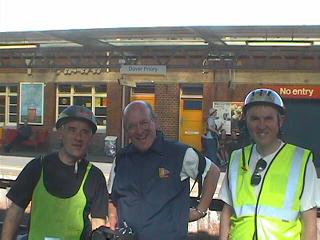 From Bekesbourne, a short cycle to Viv's house, then Tony and I carried on to Bridge. As I turned off to my house, the final lone cyclist of the trip made his weary way home
A game of Boules with Peter, Viv and myself at The Unicorn (won by Vivian), was followed by an excellent dinner, where we were joined by Bob, Graham, Sue and the lovely Martha
An excellent day out. Many thanks to Vivian for organising it.